Gallery of Paintings
The collection of paintings with European works from the 15th to the 20th century is the museum's department most steeped in history.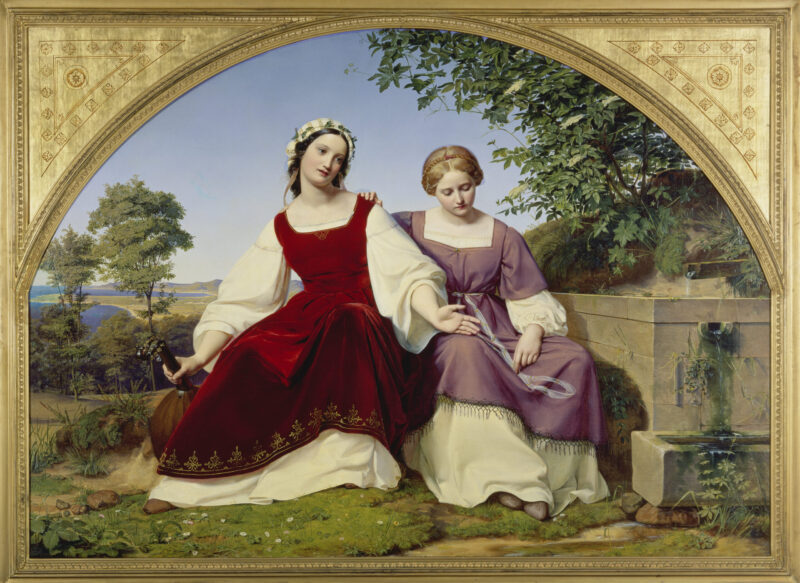 Its roots go back to the legendary late 17th-century gallery of paintings held by Elector Palatine Johann Wilhelm von der Pfalz. Today the collection comprises around 3,000 works from the Renaissance through to Impressionism.

The collection focuses on:

Dutch and Flemish painting from the 17th century
Roman and northern Italian paintings from the 17th to 18th century, including a collection of 350 oil sketches from the Baroque period
19th-century Classicist paintings, with particular emphasis on the Düsseldorf School of Painting from 1819 to 1918
The works from the Renaissance period are among the oldest in the collection (Cima da Conegliano, Giovanni Bellini, Lucas Cranach the Elder). Flemish Baroque painting features prominently with 300 works by Rubens through to van Winghe. The large-scale paintings Assumption of the Virgin Mary and Venus and Adonis by Rubens from the Elector's collection gave the Rubens Gallery its name. Dutch masters from the 17th century are represented by important works. A volume of high-calibre still lifes complement the collection.
The 625 permanent loans from the Academy of Art have enriched the collection of paintings from the 15th to the 18th century since 1932 and are a particular highlight of the collection. Unique in Germany is the collection of 350 oil sketches by Roman Baroque masters.
As regards Venetian or northern Italian 18th-century painting, Bellotto and Guardi are outstanding examples. Moreover, the collection is complemented by a small, but superb group of Classicist paintings by Hackert, Regnault, Koch and Angelika Kauffmann. 
From 1913 onwards, upon the museum's foundation, 19th-century works from the art hubs of Berlin, Dresden, Düsseldorf, Munich and Paris were acquired. The initial basis was formed by the 450 works of the Düsseldorf School of Painting held by the Verein zur Errichtung einer Gemäldegalerie zu Düsseldorf (society for the establishment of a gallery of paintings in Düsseldorf). The Düsseldorf School of Painting today comprises more than 1,200 paintings by artists such as A. and O. Achenbach, Bendemann, Hasenclever, Hildebrandt, Hübner, Jerichau-Baumann, Lessing, E. and J. W. Preyer, Schadow, Sohn and Tidemand.
High-calibre works by the Nazarenes Cornelius, Overbeck and Schnorr von Carolsfeld tie in seamlessly with the Düsseldorf School of Painting, as do works that illustrate the movement's influence in Karlsruhe, Weimar, Worpswede, Belgium and France.
Among the paintings from Romanticism to Impressionism are examples by C. D. Friedrich, Carus, Dahl or L. Richter, giving insights into an era when landscape painting flourished in Dresden. With works by Feuerbach, Marée or Böcklin the periods from Biedermeier to Naturalism as well as Symbolism are well represented. The Munich School, with paintings by Spitzweg, Trübner or Uhde forms a dialogue with the works of Blechen, Menzel, Liebermann, Corinth and Slevogt of the Berlin School.