Hoehme-Stiftung
Gerhard Hoehme's (1920-1989) work, particularly in the 1950s, made a major contribution towards German Art Informel.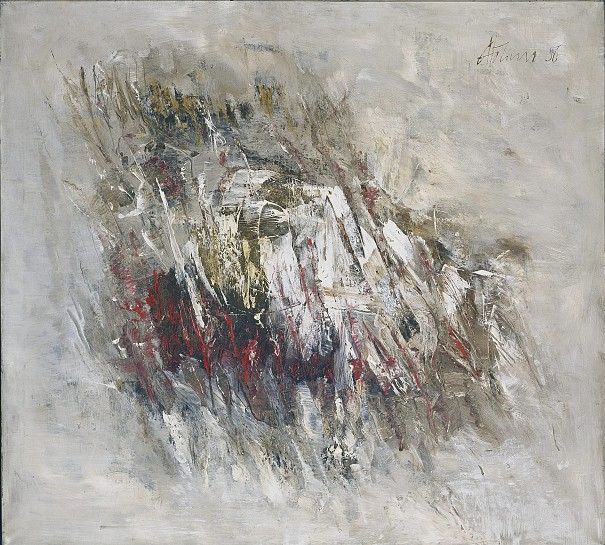 His works are the most self-willed and complex examples of German art of the second half of the 20th century. As a professor in the period from 1960 to 1984, he directed the most significant classes for painting at the Dusseldorf Art Academy with such prominent students as Sigmar Polke and Chris Reinecke.
The Gerhard and Margarette Hoehme foundation was called to life by the artist's widow Margarete Hoehme with the significant support of Hans-Heinrich Grosse-Brockhoff, then Head of the Culture Department in Dusseldorf. It is a foundation based on civil law which was founded by Mrs. Hoehme and the Museum Kunstpalast which has taken over the direction of the foundation.

The Gerhard and Margarete Hoehme foundation provides a home in the Dusseldorf museum scene for the artist's bequest. The collection of the foundation consists of a total of 60 paintings, 122 drawings and 80 prints from the period between 1948 and 1988 which were left following the death of the artist and are now being worked on in terms of research and restoration by the Museum Kunstpalast. The collection gives a representative survey of the entire work by Gerhard Hoehme. Central works such as "History does not tolerate any sun" from the year 1978 (currently on permanent loan in the Bonn Kunstmuseum), as well as "The Comrades Picture" from the year 1965, are milestones in the work of the artist and a guarantee for the lasting interest in the work of Gerhard Hoehme.

A comprehensive catalogue, published on the occasion of the foundation's first exhibition in 2000, documents the entire collection of the Gerhard and Margarete Hoehme foundation on 182 pages, including 50 coloured photographs and numerous black-and-white illustrations (available from Museum Kunstpalast for 10 Euro plus packaging/postage. Please contact petra.hecht@kunstpalast.de).

More information can be found here.