Zero Foundation
The ZERO foundation was established jointly by Düsseldorf ZERO artists Heinz Mack, Otto Piene and Günther Uecker and the Stiftung Museum Kunstpalast Foundation with financial support from Düsseldorf City Council in December, 2008.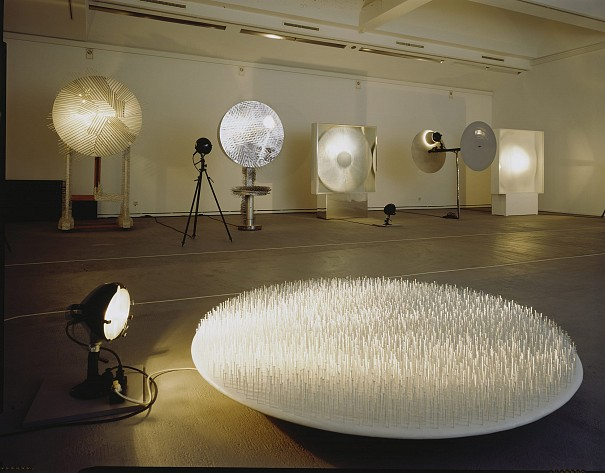 The impulse for this move came from the retrospective organised with an international outlook at Düsseldorf's Museum Kunstpalast in 2006, ZERO. Internationale Künstler-Avantgarde der 50er/60er Jahre (ZERO. International Avant-garde of the 1950s and 1960s). In establishing a ZERO foundation, the aim was to preserve, present, research and promote the achievements of the international ZERO movement.

To this end, the artists donated forty works as well as their personal archives of the ZERO years, with important records in the shape of photographs, correspondence, exhibition invitations and press matter. In the next few years, further works by and contemporary records of the international ZERO avant-garde are to be gathered and made accessible to a wide public and to international research with the aid of loans, collaborative work and the development of exhibition projects and publications. The ambit encompasses not only the ZERO period proper, but also that of the waves and ripples it made and continues to make into the present time. The Archives and the ZERO library are being built up and are already open to researchers by appointment.

It is the foundation's good fortune, and as good as unprecedented, that the artists are able to be an active part in it, be it with advice, explanations or inspiration. In this way, information relating to the ZERO period can be passed on first-hand and enter the continuing scholarly evaluation.
 
 
More information:

Hüttenstraße 104
40215 Düsseldorf
Germany
Phone: +49 (0)211 59 80 59 77
Fax: +49 (0)211 59 80 59 76
info@zerofoundation.de
http://www.zerofoundation.de